Gulf Egyptian Center is a privately owned company by Mr. Mohamed Tarek Fouad. It was founded in 1990.

Gulf Egyptian Center is actively specialized since then in exporting frozen vegetables and fruits, all highly selected and of high quality
under the company's private owned brand
Gold Alex.

Mr. M.Tarek directed all his efforts for increasing the exports of the frozen vegetables and fruits year after year, and therefore managed to earn a very prominent place and one of the best reputations in the industry for the high quality of Gold Alex range of products.

Gold Alex is one of the Middle East's major new entries into the frozen vegetables .It has become one of the popular brands in different foreign markets and appealing to all classes of consumers.

Gold Alex assures the vegetables and fruits from the farm to the eating table without any additives or preservatives.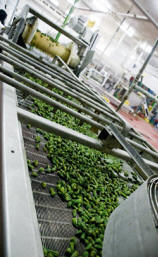 Gold Alex at a Glance
To assure and support the main objectives in processing high quality and safe products, Gulf Egyptian Center - Gold Alex is ISO 22000/2005 & HACCP certified.
Our success & leadership in food processing industry and exporting wouldn't have been possible without the continuous support & encouragement of our customers.

Gold Alex guarantee a steady supply of high-quality products to the importers throughout the world.

So we are always ready to participate and help to achieve the mutual market interest and demand by co-operating & understanding the market changes.

Therefore for our future growth we would consolidate our old markets and penetrate the new markets, with our high quality products and outstanding services.

And due to the continuity in quality, service, innovation and accurate prices are our main targets & first of all, OUR CUSTOMERS SATISFACTION IS OUR GOAL.